Because you bought BOSS, you are eligible for this
exclusive offer for the next 10 MINUTES ONLY!
Get The Supreme (Level 3) Membership of
Madison Bootcamp At Home For Only $297, That's 50% OFF!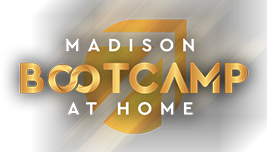 This offer expires in 10 minutes!
Because you have purchased Boss, I've decided to offer you a rare opportunity to get 50% off my program Madison Bootcamp At Home. We have taken the luxury of a LIVE Bootcamp experience, and made it accessible to you ANYWHERE, on YOUR TIME, and on YOUR TERMS.
Why Take an RSD
Bootcamp FROM HOME?
Experience an RSD Bootcamp from the comfort of your own home.
Get world-class game training that is custom-tailored to you and your specific pickup personality.
Revisit that training again and again as many times as you want, anytime, anywhere. (It's like getting to go on a Bootcamp as MANY TIMES AS YOU WANT!)
The Black Hole
The Self-Help Junkie
Well, The Madison Bootcamp at Home Delivers ALL OF THAT and MORE,
For the FIRST TIME EVER:
THE MADISON BOOTCAMP AT HOME WILL UNSTICK
THE "BIG 5" STICKING POINTS:
Not going out → Time efficient game blueprints, online game, text game and social media game modules will provide a steady stream of high-quality girls from your everyday life. Going out will OVERFLOW your funnel, it won't be the funnel.
Buying products and not implementing them → Up to 12 Routine LIVE Bootcamp Debriefs and 3 Accountability Webinars will ensure you are implementing the Bootcamp at Home curriculum, staying on your path and connecting with the MBCAH Brigade.
Not knowing your sticking points → In your mind you have your "Known Unknowns" – for example you know you don't know how to manage last minute resistance because you have messed it up before. You also have "Unknown Unknowns" – red flag behaviors and traits that are subliminally screaming "STAY AWAY" at every quality girl you meet. Once we make these "unknowns" known to you, we can FIX THEM.
Filling in your blind spots → We will open your eyes to the INVISIBLE WALL that you've been running into over and over again without even realizing it. Your hidden blind spots have been DESTROYING your chances of success and you need that expert 3rd party perspective to show them to you.
"Stuck" in intermediate purgatory → The KEY to getting out of intermediate purgatory is developing CONSISTENCY. This requires us to train you to activate your state by self-generating your positive emotions. The core curriculum will give you the theory on this and we HAMMER it into your skull with cutting edge exercises in later modules.
Why Am I The Instructor To Spark Your Breakthrough?
I have run HUNDREDS of Bootcamps with THOUSANDS of students all across the globe.
Over the past decade, I have traveled to three continents, 35+ cities, ran hundreds of seminars, trained thousands of students face-to-face, and over two-million online.
I have taught mobs of students how break through their internal blocks, overcome their obstacles, and walk away with an INNATE SENSE OF POWER.
That means whatever your current situation – I have seen it before, and I know EXACTLY how to lead you through it.
Madison Bootcamp at Home is built on top of A DECADE of trial-and-error – this is a finely-refined program that has been field-tested to the highest standard.
This is the only time I am going to be offering such a
HUGE Discount for this program and it is only valid for the next
10 MINUTES, then its gone forever…
This offer expires in 10 minutes!